Recap & Week Ahead – The highlight of the past week, that I have discussed ad nauseum is the 1 unit, four team parlay that I played in TSP Daily on Saturday which brought in a 10 units return, 8.5 of which was profit after taking a 1.5 unit Titans -3 (+100) hedge. It's starts the NFL season with a big win and locks up a juicy September profit thus far. Hopefully it is a sign of things to come. Last season I profited over 30 units on parlays…net profit! I hope to exceed that in 2021 and I am well on my way. I'll get to parlays later on though.
Beyond the parlays, the standard TSP Live action was pretty flat. The first Sharp Consensus angle of the football season, a Just Missed Premium Play on Nebraska got there, the Primary Angle on Colts lost, the Secondary Angles split with Troy and New Orleans. Of course the analytics delivered a ton of content which saw the Real-time LJP Scores provide a winning week and weekend, but the Book Needs struggled in Week #1 of the NFL. The public has done well in Week #1's the past few years. While they had some big losses, like the Packers, they did also get some decent wins. We'll see how they handle this week. Often this is the week people adjust their team assessments based on Week #1 too much and it bites them in the ass.
To get you ready for the action this week…TSP Live Analytics is a sports betting platform that is now pumping out content on a DAILY basis for subscribers. Just today TSP Live's Daily Briefing looked at a bunch of NFL and NCAAF wagers seeing sharp action. TSP Live Analytics members have daily access to analytics such as: the Early Sharp Buy readings, TSP Live Radar, Real-time LJP Scores, Real-time Book Needs table, KB Consensus, Sharp Consensus, Sports Service Consensus and the new favorite…the Oddsmaker's Report. On top of DAILY analytics access, TSP Live Analytics members get access to TSP Live's Daily Briefing every morning and exclusive weekend access to any Book Needs, Primary & Secondary Angles, along with any Sharp Consensus (Premium & Just Missed Premium Plays). It is truly the Sports Information Buffet! For more details or to signup for TSP Live Analytics click here or visit TheSharpPlays.com/tsp-live or TSP.Live/tsp-live.
Quality TSP content doesn't end with sports either! The Financial Market Analytics (FMA) subscription is chugging along in it's second year, another profitable one, returning a portfolio ROI of 9.0% and averaging +31.6% on options trades, 0.05% on stock positions, plus another 59.6% on FMA Radar positions! FMA access is part of the All-Inclusive subscription, or can be purchased individually for the month of September. To signup, visit TSP.Live/fma.
As always thank you for your support on the paid content! I do not take advertising. It is your paid content purchases that support everything I do at The Sharp Plays (free & paid content), expands the content and technology utilized, and supports things important to me. I am continually grateful for your support!
Also, don't forget about the TSP Telegram channels! The channels provide some of the best content, most of it free, that I put out. There are three Telegram channels, with another one in the works. There is a TSP Sports Channel, a TSP Trading Channel and a TSP Twitter Clone Channel. For details on each of the channels and how to join them, simply visit https://thesharpplays.com/tsp-telegram-channel/.
Now let's get into this week's action…
---
Early Sharp Buys (0-1-1 for -1.1 units) – A loss last week as Iowa St did a great job in the stats, blowing away Iowa in that forum. Unfortunately, Iowa St also below Iowa away when it came to turnovers…and that was the difference maker. Time for a win! The Early Sharp Buy this week is on Middle Tennessee St +13.5 over UTSA. I am not familiar with either of the teams in any way to give you some insight into what could be happening here. When I look at this game though it is already a 62 on the TSP Live Radar and likely will be a 1OPEN on the LJP when the market achieves a key level of overall betting volume. Right now MTSU +13.5 is leading the way as the Early Sharp Buy! By the way, those in TSP Live wondering why MTSU doesn't show up on the TSP Live Radar, the Radar doesn't cover readings under 65. The level of 65 is seen as the lowest level for something to qualify as "material" sharp action.
---
Early Algorithm Look (1-1 for -0.1 units) – The Early Algorithm Look ended up "looking" quite ugly as UAB just got steamrolled. Let's hope for better things this week. For the week ahead, the Early Algorithm Look is on Coastal Carolina -13.5 over Buffalo. The algorithm calculates Coastal Carolina at -18 over UB. So, a decent value situation here. Hopefully the value will pay off. Last week the first Sharp Consensus play of the football season, a Just Missed Premium Play, was achieved on Nebraska -13.5 over UB. Nebraska let the Bulls hang around for a while before opening it up late in the game (14-0 4th quarter) and getting the cover with a final of 28-3. However, it wasn't so much that UB hung in there, but that Nebraska is just inept on offense. So, I could see why this number is a little out of whack. UB is getting some credit for quality. Coastal Carolina concerns me a bit because they beat Kansas by 27, but only out-yarded (not a word) the Jayhawks by 46 yards. So, that's a concern, but the algorithm says it is no concern and the value lies with Coastal Carolina -13.5 as the largest value of the week!
---
My Handicapping (2-0 +2.0 units) – My disclaimer will stand here all season…FYI, I SUCK as a handicapper. However, I am not sure if you believe me after my AWESOME 2-0 start to the season! Let's keep it going. Where am I going for this week? I am taking Indianapolis +4 over the LA Rams. I love these situations…you have the high flying team against the pathetic looking team from the previous week. It is tough for me to stomach Carson Wentz, but I am going to do it. When I saw this line I thought I had to grab it! Trust me, the thought of Carson Wentz against the impressive looking Rams is scary. It's also why I think I am getting value here. Last week sharp money was decently on the Colts. It was to the point that the Colts were an LJP 2U. Of course the play lost, but it is a situation that I call the next game Robin Hood angle. It's a long story, but when the Robin Hood Club was in action, there was a betting angle that worked with shocking success. It was simply when sharp money was decent to a team, and that team lost…you then took that same team in their next game. The performance was solid, at one point over 60% on a sample size of over 50 games. I think we will see a next game Robin Hood angle this week. The Colts lost 28-16, but did not play awful as a whole, they just blew some key spots (not sure if that makes it better). The Colts controlled the clock and moved the ball decently. The problem was Wentz lost a ton of yards on sacks which screwed up drives. Colts only had one turnover, but it was a key fumble by Wentz on the Seattle 31. The Colts also got to the Seattle 28 just before the half, went for it and did not get it. Two good drives that ended with no points. Another 4th and 2 on the Seattle 18 and Wentz got sacked! So, make that three drives without points in the danger zone for Seattle. Even three field goals out of each of those drives and the Colts push. Anyway, Rams looked solid in their win over Chicago. It was a Sunday night game so everyone got to witness the shock and awe of the new Rams. It is for this reason that I see value here. The bookmaker isn't stupid and hanging a -4 here knowing everyone and their mother will take the Rams after they looked like the old "greatest show on turf". I guess while the world cashes Rams tickets this weekend, I will cry into my Colts +4 ticket. We shall see! God Colts!
---
My Two Cents – So far this season I have used the My Two Cents section to talk about betting topics that are near and dear to my heart. My goal has been to prepare bettors for the football season ahead. No real rants yet, but don't worry those are coming. Although, what I am about to say will get a little ranty (not a word). So here goes…let's talk about PARLAYS as a betting tool!
I cannot stand when people broad stroke parlays as sucker bets anytime they are used. I was shocked that more than one person complained that I was betting a parlay this past weekend for 1 unit. My response was, "You must be new here." While the parlay this week was only my second 1 unit parlay since March Madness (the other was Week #1 of NCAAF), the 1 unit parlay was commonplace for me last football season. In fact, while straight bet action in TSP Live last football season earned over 20 units, parlays exceeded that performance providing just over 34 units between TSP Daily and TSP Live parlays during football! I like parlays and I have the most success on them during football and NCAAB, so I use them! As anyone who follows me knows, I don't do 1 unit or even 0.5 unit parlays every day in TSP Daily Briefing/TSP Live. Frankly, I usually only do one or two a week, at most…and outside football these are 0.3 units or less. I sit back and I wait until the situation suits me…then I will fire a parlay.
Yes, I grant you that parlays are sucker bets for most gamblers. Frankly, straight bets are sucker bets for most gamblers because most gamblers suck. By definition a sucker bet is…a gambling wager in which the expected return does not reflect the odds of winning, and is significantly lower. So yeah, for 95% of bettors even a single game straight bet qualifies as a sucker bet. Sorry, no offense! Draft Kings market capitalization is $24B as of today. They are not worth $24B because most people who bet with Draft Kings win money from them long-term (or even short term for that matter). Draft Kings is worth $24B because most people who bet with them are suckers and will lose money to them every single year…and happily do it all over again the next year. On Saturday, I liked a few games across the weekend based on different data points that interested me. I took a shot at a 1 unit four team parlay paying 9.98 to 1. My goal was to secure some numbers without tying up 1.1 units each on four straight bets, at least initially. I just wanted those teams at those current numbers for low risk. If I lost, OK, I don't cry over -1 unit. If I won, bingo it would make for a great week and setup a winning September! My plan worked!
I am not here to pat myself on the back. In Week #1, when I took a 1 unit two team parlay, I lost. So, I don't just win every parlay I place, but overall parlays usually end the season as a nicely profitable adventure…not to mention they're a lot of fun along the way. I won't go through a long thesis on why I like parlays, I will let another article do that for you (stay tuned). Suffice it to say, parlays provide me another wagering option for implementing my overall strategy on angles I believe contain an edge in my favor. Back in late 2007, I read an article titled "How To Profit From Parlays" which someone passed along to me. If you would like to read this article too, you can download it here in PDF format from my website (CLICK HERE). Long story short, the article breaks down the mathematics and illustrates how parlays can be used for strategic wagering purposes. Essentially, if you achieve over 52.4% in your win percentage on spreads, you can flip the edge on parlays from the house to the player. So, after reading this article (late 2007) I decided to give it a try during the next football season. Only four weeks into the 2008 season I cashed a very nice parlay, and from there I was sold. Since then parlays have not let me down year over year. Even just in my time releasing parlays under "The Sharp Plays" banner, parlays have returned over +283 units for me (Record Archive). Yes, that makes parlays the best performing content I release…and it is something I am very proud of achieving. Why? I put each of the parlays together myself! Oh and people always say, if you don't show the ticket then it didn't happen…OK! Fortunately, I kept the printout from that September 2008 season as a reminder to this day…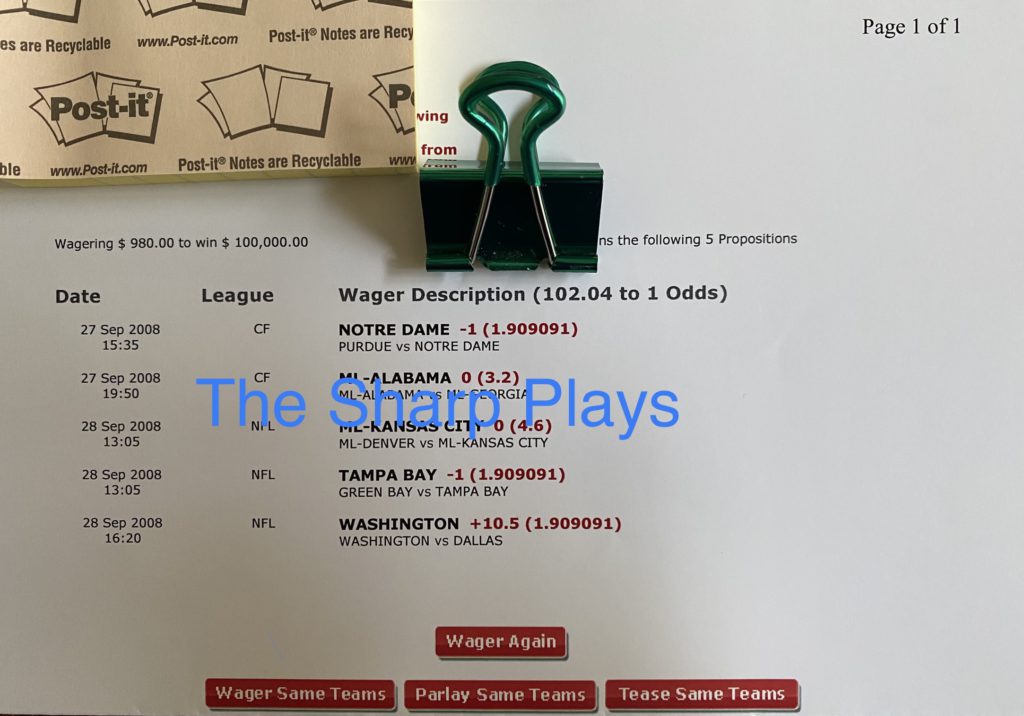 Oh, and did I hedge?? Yes, but just enough to cover the cost of the parlay and pay for the next parlay if the one above lost. There's also one benefit of being a +EV bettor with parlays…sportsbooks are much less apt to limit you. Why? Parlay bettors are initially treated as "lucky" at most books and this assessment often goes on for a long time before the book realizes your parlay action exceeds standard variance.
If you don't like parlays, that's your choice and that's all good. Just please don't tell me they are long-term losers or especially repeat that bullshit spouted off by every pundit, alleged sports betting guru, and the next self-proclaimed incredibly successful professional sports bettor. Take it from someone who actually employs the strategy, someone who has done it publicly on Twitter & the web for over the past decade, and someone who can actually do math. Yes, I am talking about me. I am not good at much in life, but sports betting math is what I do…and the numbers on parlays within my wagering do not lie. So yes, it takes effort to gain an edge over the book, you also have to bet intelligently, and most importantly you have to bet disciplined. If you can achieve those things then you too can profit long-term from parlays and flip the house edge on its head. At which point you can walk into Draft Kings like Doc Holliday and say, "I'm your huckleberry", and take it to them!
Now I have to let you go, I am working on my next parlay for the weekend ahead!
That'll close out this week's newsletter for me! Thanks for giving the newsletter here a read today! Stay safe out there! I am always open to any feedback you may have. I might not listen to it, LOL, but I am open to it! 😉
Good luck in your action!
~ The Sharp Plays