TSP LIVE SUBSCRIPTIONS AVAILABLE @ https://TSP.Live/tsp-live
Recap & Week Ahead – Here we are…on the doorstep of December…holidays and NCAAF Bowl season lay ahead. It is a great time of year, and I hope you will be joining me for the fun! Last year, Santa left some goodies under the Christmas tree for us. Here's to Santa being generous to us once again in 2022!!
It was a profitable week of content with some highlights like a Group Buy win and a Book Position win…thanks to some good luck at the end going our way for a change! Could always be a better week though. Robin Hood Selections went 1-3, but the real lowlight of the week was seeing another four team parlay lose by 1 leg. The optimist would say that of the previous four leg parlays I had this season…all lost by 1 leg, so that's a 3-1 straight bet record on each four teamer…BUT I WANT THE DAMN PARLAY!!! LOL!! Maybe this will be the week!
Before I dive into the newsletter content I also want to thank all of you for your support through likes & retweets on the Robin Hood Selections. I launched the new content, which benefits selected charities, on November 10th. In less than three weeks the content has raised $1,235 for charity…and it is only beginning! Thank you for your help in this endeavor and I hope you enjoy it as much as I do. Great way to build some positive karma and help some great organizations in the process!
If you are looking for expanded sports content, don't forget to check out TSP Live! Signup at https://TSP.Live/tsp-live. Options ranging from 7 days up to 1 year are available. TSP Live Analytics members have access to analytics & content such as the TSP Live Radar, KB Consensus, the Oddsmaker's Report and more (CLICK HERE FOR RECORDS)! On top of daily analytics access, TSP Live members get access to TSP Live Insider…which provides discussion of strategy, early sharp buys, the occasional exotic (teaser/parlay/rollover) and more! It's the Sports Information Buffet…and you have a front row seat! For more details or to signup for TSP Live Analytics click here or visit TSP.Live/tsp-live.
Quality TSP content doesn't end with sports either! The Financial Market Analytics (FMA) subscription is chugging along in its third year, another profitable one, with the FMA Spotlight collecting cumulative returns in 2022 of +39.5% using passive targets and +59.5% using aggressive targets! FMA access is part of the All-Inclusive subscription, or can be purchased as a separate subscription each month. To signup or for more details, visit TSP.Live/fma.
As always thank you for your support on the paid content! Your paid content purchases that support everything I do at The Sharp Plays (free & paid), expands the content and technology utilized, and supports things important to me. I am continually grateful for your support! I would not be here without you.
Lastly, don't forget about the TSP Telegram channels (Sports, Trading & Twitter)! For details on each channel and how to join them, visit https://thesharpplays.com/tsp-telegram-channel/.
Now let's get into this week's action…
---
Early Sharp Buy (9-4-0 for +4.6 units) – In this section of the newsletter I look for what play is seeing the cleanest and largest sharp buy at this point in the week. The section is graded based on the result of the play here, however this play can be used for a few things. We have seen situations whereby the newsletter's early buy sees counter buying later in the week. These reverse buys have shown to be a VERY STRONG and profitable to follow. So, keep the below game in mind as the week goes along.
The Early Sharp Buy won last week on Missouri +3. Let's do it again this week. Where is the early sharp buying for the week ahead? The cleanest buy right now is on Southern +17.5 over Jackson St. The hype on Jackson St going 11-0 is huge and it seems the line has been shaded against Jackson St. The sharp money is gladly buying that shade. We will see if it pays off. I expect this to pop on the TSP Live Radar later today based on volumes. We will see if it goes up on the Radar…or if the early action is just a fake out. Either way, Early Sharp Buy is Southern +17.5!
---
Early Algorithm Look (10-3-0 for +6.7 units) – The section here is quite simple. I run my favorite NFL & NCAAF side algorithms and my favorite NFL & NCAAF totals algorithms each week. I then post the play showing the most value here.
Algorithm got back on the winning side with Mississippi St this past week! For this week, the algorithm is finding the largest value on Purdue/Michigan UNDER 52. The algorithm calculates a final score of 46 points which provides 6 points of value in the total. Let's see a defensive BATTLE in this one!
---
My Handicapping (6-7-0 for -1.9 units) – Son of a bitch! Detroit hung around more than I expected they would. I need to get on my horse here this week to avoid a losing season of the My Handicapping section.
For the week ahead I am going with the bounce back angle here and taking Atlanta +1 (available at BetOnline) over Pittsburgh. I know…Atlanta…I am a glutton for punishment after what they did to a sweet parlay this past weekend. However, my reason for going with Atlanta is simple…despite losing, they won the stats battle over Washington. Sure, all that matters is who wins a game, but when you win the stats battle and lose the game, often the following week you will see value in such losing teams. Everything is about the top line score, few gamblers look under the hood. Under the hood is where the magic happens, so you can't disregard it.
On the flip side, we just saw Pittsburgh roll to an easy victory on Monday night. Since the conclusion of Monday's game, the public money and parlay money has been rolling in on the Steelers. To me, I am glad they won for the TSP Live Radar, but they did not look that great. Halfway through the 2nd Quarter last night they were "only" up 13-0 on an Indy team that failed to get a first down or complete a pass up to that point in the game. That's pretty bad…given the turnover benefit too that Pittsburgh had. So, let's not crown the Steelers the next "King in the North"!
So, it's nothing flashy, but we have Atlanta not getting enough credit and Pittsburgh getting too much. It sets up a value disconnect and I will try to profit from that disconnect. There is also some tiny sharp buying on Atlanta at this point in the week which supports my wager. I feel I am getting at least 2-3 points of value on Atlanta based on public perception and current betting. I will then grab that value and take Atlanta +1 over Pittsburgh! Let's get this section back on track this week! The algorithms and the early buys are carrying their weight for the newsletter. It is time I carry my own!
---
The Sharp Plays Review – I thought it would be fun to put together some reviews on travel, products, services and more throughout the year. I have built up a few reviews that I wrote and will feature them here each week.
I did not get a chance to finish this week's review. So, I will hold it for next week. You have enough to perhaps chew on this week with the last two reviews.
---
My Two Cents – **SPOILER ALERT** If you have always wanted to watch the movies "Major League" and "Major League 2″…do not read the following! Since these movies were released in 1989 and 1994…before some of you were born, I will take my chances that this won't be much of a spoiler. Anyway…
There's a movie many of you may have seen called Major League. If you haven't, it's definitely worth watching and has an excellent cast. There were actually two movies, "Major League" and then "Major League 2". In Major League, the Cleveland Indians are bunch of losers. A variety of washed up and low grade baseball players who are put together so the Indians can tank and their owner can move the team. The bunch of losers realizes that the team's owner, whom they come to despise, wants them to lose. So, what's the best way to screw her over…to win! As such, the players band together and work hard to turn the pathetic Indians into a winning team. At the end of the movie the Indians beat the Yankees to move on to the ALCS. It's a fun ride, and Bob Uecker does a phenomenal job as the team's announcer.
In the second movie, Major League 2, we start with the Indians coming to training camp. Due to their success the previous season (in Major League), the players on the Indians now have some swagger about them. Instead of the bunch of losers, they are your typical hotshot athletes with the women, the money, the attention, etc. Well, all the celebrity has gone to their heads in the time between the end of Major League and the beginning of Major League 2. From hapless losers to playboys.
The problem for the Indians in this movie is that success and fame has gone to their heads, and the Indians suck right out of the gate. Instead of having that drive, desire and passion, like they did in the first movie, they are enjoying the high life. The team just doesn't care much anymore…they lost their hunger, they lost their drive, and the performance of the team plummets. Eventually, little by little, we watch our characters experience issues in life which bring them back to their roots…and to find the hunger and drive they had the season before. When the various players find this hunger again, it comes together in a healthy winning streak which sees the Indians get rolling, and this time win the ALCS to go on to the World Series!
TSP, where the fuck are you going?? The moral of the story here is never to lose your passion, hunger and drive for something. As soon as you do, you change often in irreparable ways. What made you great changes, and that greatness you achieved beings to wane.
I see this sort of thing play out all the time in gambling. You have a professional gambler who is doing his or her thing and making a good amount of income from their craft. At which point they get some attention. These folks now start appearing on podcasts, radio and even some TV. Now, like our friends from the Cleveland Indians in the movies above, they lose the passion and their drive. It is more about keeping the attention than being in the trenches. When they were working out of their home office, parent's basement, after hours, experiencing failure, but continuing to strive for success, trying to beat the spread…they had that hunger and drive. The ultimate goal in these early stages was just to be recognized for their skills and ability at their craft. Now that they are acknowledged for their skills and ability, the drive is gone. At which point their edge vanishes, and they rapidly become no better than a coin toss at picking winners as they fade back into obscurity. I have seen it for countless bettors and betting groups through the years. When a professional gambler all of a sudden becomes a personality…it's like when a celebrity goes on Dancing with the Stars…it's a sign that it's over! LOL!
Why bring this up now? I happened to be having a discussion with a TSP follower this week about a particular situation in the sports gambling industry. At which point it got me to reflect on the graveyard of fierce and hungry gamblers who I saw bust their ass to make it, then they made it…and then just as quickly imploded. It's not just gamblers either, it can go for athletes, musicians, really any profession.
So, if you are grinding and working hard…hoping one day to hit it big in gambling or whatever industry you are in (law, finance, doctor, whatever)…don't lose what makes you who you are right now! Don't lose that drive and hunger that you have! When you are a success, it will be very easy to lose your edge. Luxury will do that to you. I find it helps to keep a momento very close to you at all times. I have one such momento on my desk. I look at it every day and it grounds me like nothing else. It never gets old looking at it either. What is my momento? It is a picture of my bedroom when I was in college. I had just been in the offshore gambling industry for two years at the time and the photo really hits me with nostalgia. I thought of sharing the photo here, but there are some personal photos in the picture. I don't want to have everything blurred out either. Defeats the purpose. So, perhaps in the future I will find a more sanitized version to share. However, it should suffice for now to describe it to you. It's a basement bedroom that I had in my mother's home during college. In the photo is my a full desktop computer, fax machine, ink jet printer, cordless phone, a laptop on a docking station, two desks with two desk chairs…although I was the only one working in this office…a TV, VCR, DVD player, some weights, a couple photos and newspaper articles on the walls, my alarm clock, my bed and just enough room to squeeze around things. There are papers all over the place, coin buckets (when slot machines gave out coins each casino had these buckets for patrons to carry their coins…so I would collect them), a hat from the Atlantis (I know, funny that was my review last week), an inspirational poster about patience that struck me when I saw it…so I had to buy it. Back in the late 90's and early 2000's there was a big craze for inspirational posters. Every office had one…so I had to have one for my "office". Not to mention I also liked the look of the solider in it…I am a sucker for an automatic weapon with a grenade launcher. I was actually able to Google the poster (see below). If you can't read the photo it is "Patience…If you have but one shot at an opportunity, make it count." It was a poster which guided everything I did in business. God only knows what happened to the poster through the years. However, I looked at it so much that to find it online in digital format brought a smile to my face as the memories rushed back. Funny how the saying on that poster fits my point of this section this week. I swear to you I did not setup this article to finish this way, but when I was looking through the picture of my room/office to describe for you here, and saw the poster I could not read the fine print. So I Googled and here we go! Funny how things have a way of coming together.
My point in all this is really has nothing to do with gambling. It is just about life in general. I like to think through all these years that I have not lost my hunger nor my passion for the gambling business…and the craft of betting. I am hardly Hollywood, although my home office now and my "home office" back in college are quite different. Patience…and seizing the opportunities that have come along has treated me well through the years. I hope you too will be able to seize your opportunities and make them count! Just don't lose your drive or your hunger. Once you lose it…it is tough…if not impossible to get back!
So, remember, "If you have but one shot at an opportunity, make it count."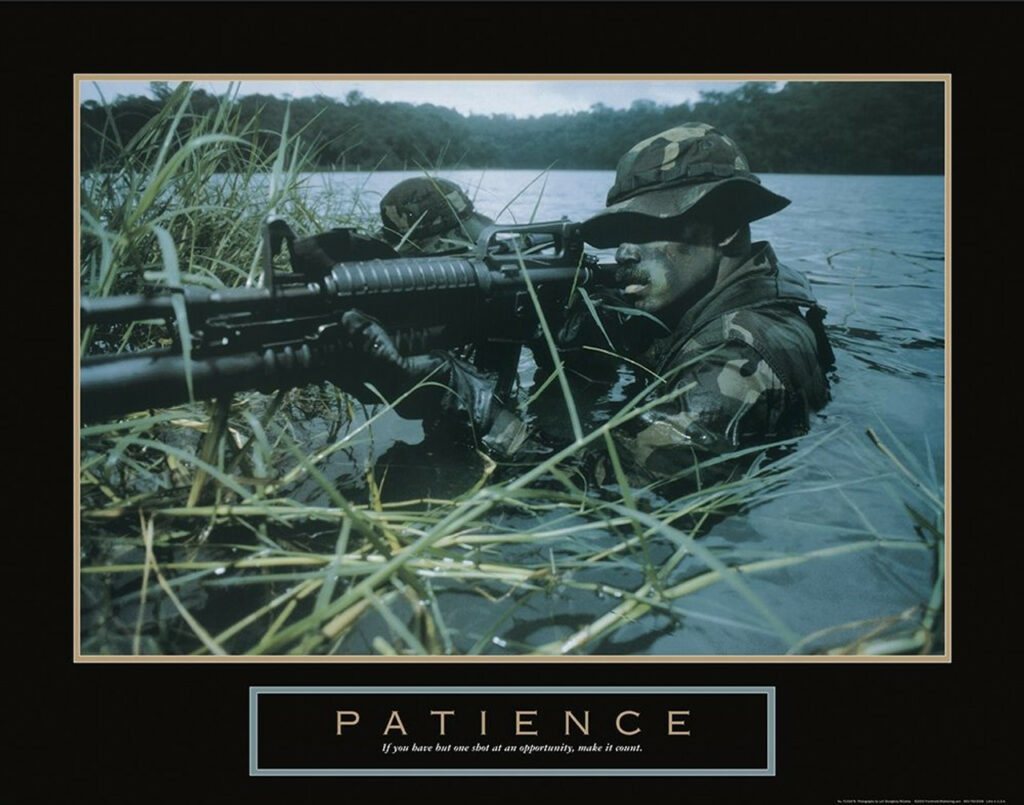 That'll close out this week's newsletter for me! Thanks for giving the newsletter here a read today! Stay safe out there! I am always open to any feedback you may have. I might not listen to it, LOL, but I am open to it! 😉🤙🍀
Good luck in your action!
~ The Sharp Plays